Descrição
Overview:
ExaGrid is a scalable, cost-effective disk-based backup with deduplication solution that revolutionizes how organizations back up and protect their data.
With ExaGrid, you get the only disk backup appliance purpose-built for backup that leverages a unique architecture optimized for backup and restore performance, scalability, and price. Only ExaGrid's performance-based GRID architecture offers you:
Fastest backups up front with permanently short backup windows as data grows
Instant recovery of full systems, VMs, and files so you have the least downtime
Lowest total cost over time by eliminating "forklift" upgrades and product obsolescence
Our patented zone-level deduplication reduces the disk space needed by a range of 10:1 to 50:1 by storing only the unique bytes across backups instead of redundant data. Adaptive deduplication performs deduplication and replication in parallel with backups while providing full system resources to the backups for the shortest backup window. Adaptive deduplication delivers the fastest backups, and as your data grows, only ExaGrid avoids expanding backup windows by adding full appliances in a GRID. ExaGrid's unique landing zone keeps a full copy of the most recent backup on disk, delivering the fastest restores, instant VM recovery, "Instant DR," and fast tape copy. And, as data grows, ExaGrid saves you 50% in total system costs compared to competitive solutions by avoiding costly "forklift" upgrades.
Protecting Data at Rest
Data security is a growing requirement for businesses of all sizes today. While many companies have invested heavily in methods to thwart network-based attacks and other virtual threats, most do not protect their business against potentially costly exposures of proprietary data resulting from a hard drive being physically stolen, misplaced, retired, or redeployed.
ExaGrid encrypted systems offer improved data security with enterprise-proven, industrystandard Self-Encrypting Drive (SED) technology. SEDs provide a high level of security for data at rest and can help reduce IT drive retirement costs in the data center. All data on the disk drive is encrypted automatically without any action required by users. Encryption and authentication keys are never accessible to outside systems where they can be stolen. Unlike software-based encryption methods, SEDs typically have a better throughput rate, particularly during extensive read operations.
Protecting Data on the WAN
Data can be encrypted during replication between ExaGrid sites. Encryption occurs on the sending ExaGrid site, is encrypted as it traverses the WAN, and is decrypted at the target ExaGrid site. This eliminates the need for a VPN to perform encryption across the WAN. Separately, ExaGrid also offers data encryption at rest.
The ExaGrid Appliance
The ExaGrid system is a cost-effective, scalable, plug-and-play disk-based backup appliance. Its patented zone-level deduplication technology minimizes the amount of data to be stored by storing only the unique bytes across backups instead of storing the redundant data. This unique approach reduces the amount of disk space needed by a range of 10:1 to as high as 50:1 or more, delivering unparalleled performance in a cost-effective solution.
ExaGrid works seamlessly with all major backup applications. With ExaGrid, backup jobs are sent directly from the backup application to the ExaGrid appliance for onsite disk-based backup. The backup application can create copies from the ExaGrid system directly to an existing tape library for offsite storage, or a second-site ExaGrid system can be deployed at an alternate location to reduce or replace offsite tape.
With ExaGrid, you can preserve your existing investment and keep your current backup application(s) and processes. Using ExaGrid is as simple as pointing existing backup jobs to a share on the ExaGrid appliance using the best interface like CIFS, NFS, OST, the ExaGridVeeam Accelerated Data Mover, etc. The system scales as required by adding ExaGrid appliances, which virtualize into the GRID architecture automatically, adding capacity and processing power while acting like and being managed as one unified system.
ExaGrid Advantage
Highest Performance for Backup, Restore, and Tape Copy
Fastest backup performance using adaptive deduplication so nothing interferes with the data writing directly to disk, at the speed of disk
Fastest restore and tape copy performance with zone-level data deduplication, which keeps the most recent backup in its whole form. No reassembly from small blocks and large hash tables is required.
Scalable GRID Architecture
Performance scales and backup times are maintained with data growth because complete ExaGrid appliances – including disk, processor, memory, and network capacity – are added to the system.
ExaGrid provides plug-and-play expansion; adding an ExaGrid appliance is as simple as plugging it in and letting ExaGrid's GRID software virtualize the pool of backup capacity. No splitting of data or loss of deduplication efficiency across separate systems occurs.
ExaGrid eliminates the costly "forklift" upgrades associated with other disk backup systems. With ExaGrid, modular systems are easily combined in a virtualized GRID to smoothly scale up to a 1PB full backup plus retention (2.4PB raw capacity, 1.9PB usable capacity).
Most Cost-Effective and Flexible Solution with No "Forklift" Upgrades
No need to over-buy storage capacity up front – modular systems can be easily combined in a virtualized GRID to smoothly scale out for larger capacities as needed with no painful "forklift" upgrades.
ExaGrid encrypted appliances allow full backups of 7-40TB with corresponding raw capacities of 20-96TB. They can be mixed and matched in multiple different configurations with up to 25 servers combined into a single GRID configuration of up to 2.4PB raw capacity (1.9PB usable) and allowing full backups of up to 1PB.
Built-In Data Security
Uses Seagate's FIPS 140-2 Validated Self-Encrypting Drives (SEDs) to ensure that data at rest is always encrypted with 256-bit AES and is never in the clear on the disk storage. All data, configuration settings, etc. are encrypted.
Key management is seamless and performed via integration with many of the leading backup applications.
Drive theft protection – The drives cannot be read outside of the host system where encryption was enabled.
System theft protection – System booting and access to data can be restricted with a password. This can be enabled as an option (no extra charge).
Features:
Turnkey cost-effective disk-based backup solution with all hardware and software included.
Zone-level deduplication technology reduces the amount of disk space needed by as much as 50:1.
Adaptive deduplication performs deduplication and replication in parallel with backups while providing full system resources to the backups for the shortest backup window and an optimal recovery point at the disaster recovery site.
Global deduplication across all NAS shares and appliances in a GRID.
Unique landing zone reduces downtime by keeping a full copy of the most recent backup in complete form for instant recovery of VMs, full systems, and files. Competing solutions must reassemble the most recent backup from millions or billions of deduplicated chunks causing much longer recovery time.
Scalable GRID computing architecture allows for costeffective growth and eliminates obsolescence.
Plug and play expansion – various sized appliance models allow full backups of up to 40TB per appliance. Combining up to 25 appliances in a single GRID allows for scalability from a 2TB full backup to a 1PB full backup (1.9PB usable storage).
Single primary site system allows for existing offsite tape strategy if desired, and support for two site or multi-site topologies can supplement or eliminate offsite tape with a disk-based system.
Support of Oracle RMAN Channels for multi-hundred terabyte databases with the fastest backup, fastest restore performance, and failover.
Bandwidth throttling for WAN efficiency.
Management software notifies via SNMP or email that the system is reaching capacity thresholds.
RAID6 guards against up to two simultaneous disk failures.
Self-Encrypting Drive (SED) technology (encrypted models only) ensures that data at rest is always protected.
WAN encryption for secure data transfer.
A comprehensive listing of supported backup apps and utilities can be found at www.exagrid.com.
Solutions:
ExaGrid Basic Concept
ExaGrid appliances work seamlessly with industry-leading backup applications and utilities by presenting themselves as standard NAS shares (CIFS or NFS). Backup jobs are directed to the ExaGrid appliance. ExaGrid appliances are easily integrated into existing backup environments, as illustrated below.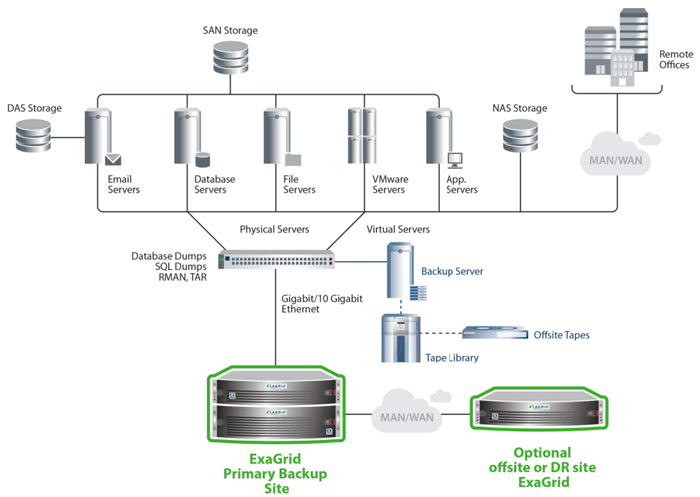 ExaGrid Sits Behind Your Existing Backup Server and Replaces Tape Onsite or Offsite
ExaGrid Technology
ExaGrid appliances are comprised of Intel Quad Core XEON processors, RAID 6 + Hot Spare storage using enterprise class SATA or SAS drives, and ExaGrid software. Each appliance plugs into a switch and is virtualized into a shared GRID.
The media server is connected to the same switch and sees the appliances as one or more NAS shares. Since each appliance includes the appropriate amount of processor, memory, disk and bandwidth for the rated data size, performance increases as more appliances are added to the GRID.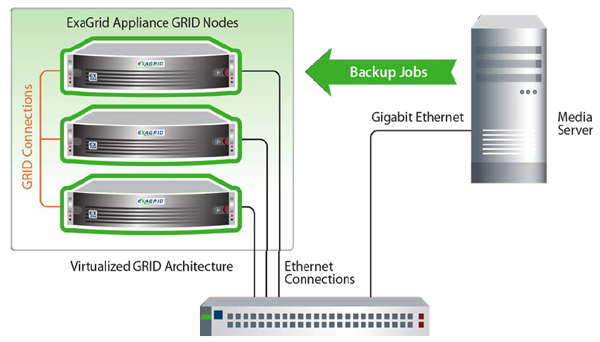 ExaGrid Appliances Connect to Form a Scalable GRID
Advanced Backup Features (GRT and OST)
Another area to consider when looking at disk-based backup solutions is how well a particular solution supports advanced backup application features such as Backup Exec GRT (Granular Restore) and Symantec's OST (Open Storage Technology) for Backup Exec and NetBackup. Some solutions do not integrate well with these features; poorly implemented GRT solutions, for example, may take hours to restore an individual e-mail or may not work at all.
Symantec's Open Storage is another popular feature that allows for more integrated offsite data protection, and it is important to check whether these features are supported if you are using Symantec NetBackup or Backup Exec.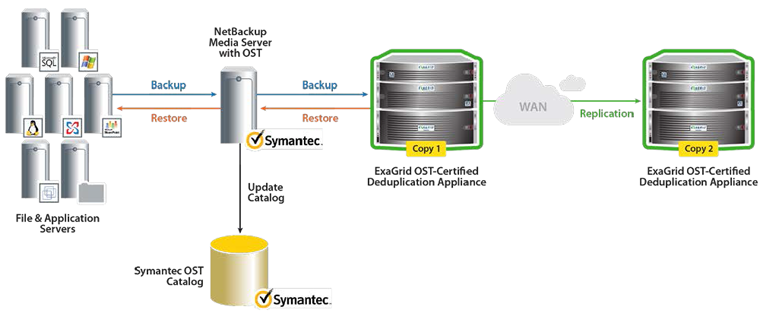 Another example is Veeam for virtualized environments. Most of Veeam's unique features such as Sure Backup, Virtual Lab, Instant VM Recovery, Copy and Replicate and other advanced features require an undeduplicated copy on disk. Only ExaGrid provides this with its unique landing zone. All other solutions only store deduplicated data. In addition, ExaGrid includes an integrated Veeam data mover with each appliance called the ExaGrid-Veeam Accelerated Data Mover. This improves all backup and restore processes and also allows a synthetic full to be created directly on the ExaGrid for increased performance.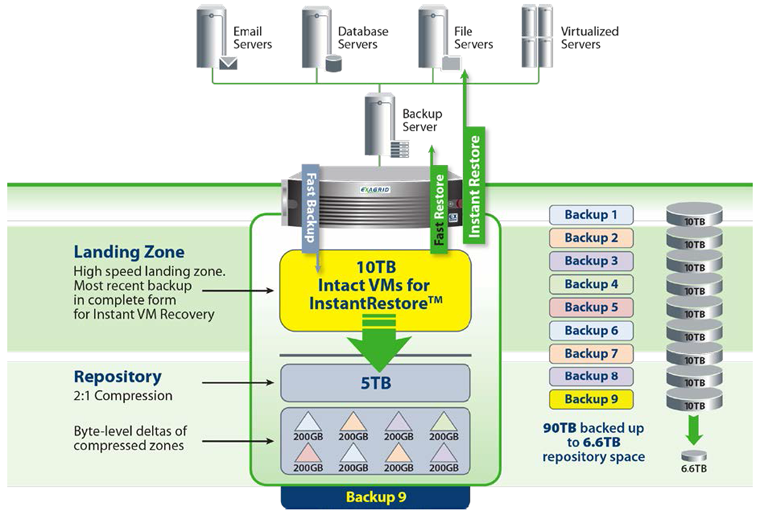 Offsite Data Protection for Disaster Recovery
While keeping offsite copies of backups has traditionally meant maintaining a set of tapes at an offsite location, companies using ExaGrid appliances can easily maintain offsite backups through the use of an offsite ExaGrid appliance in conjunction with a primary site ExaGrid appliance.
Backing up your data to an ExaGrid appliance at your primary site dramatically reduces the amount of disk space required to store all of that data due to its high-performance data deduplication capability. In a multi-site ExaGrid environment, the onsite ExaGrid system is only sending deduplicated data—the backup data bytes that change between each backup—over the wide area network (WAN) to the offsite ExaGrid appliance. The offsite ExaGrid appliance is ready for data restore and fast recovery in the event of a disaster or other primary site outage.

Optimizes most recent backups for "Instant DR"
Avoids delays from restoring from tape
Restores faster from full copy vs. "rehydrating" data
ExaGrid supports three models for disaster recovery sites:
Unidirectional replication to offsite for disaster recovery
In this use case, the entire offsite system can be configured for repository, allowing for a half-size system to be used offsite. ExaGrid is asymmetrical in this use case where all other solutions are symmetrical.
Cross protection
In this use case, data is backed up at both the offsite and onsite systems and cross replicated such that each site becomes the disaster recovery site for the other.
Multiple data center sites
ExaGrid can support up to 16 sites in a single star topology with 15 spokes to a hub. Full systems or individual shares can be cross replicated such that data center sites can serve as disaster recovery sites for each other.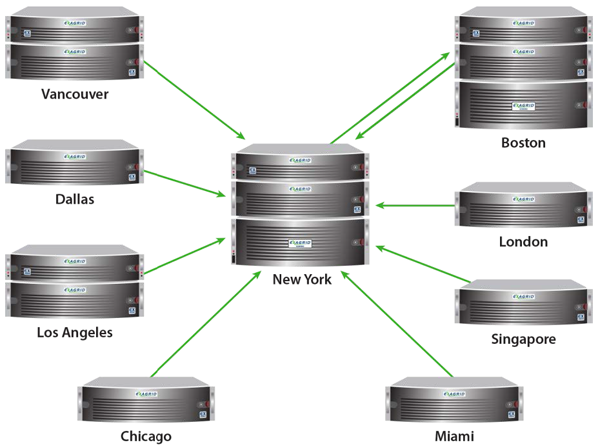 Specifications:
ExaGrid Model
EX2000
EX3000
EX5000
EX7000 / -SEC
EX10000E / – SEC
EX13000E / -SEC
EX21000E / -SEC
EX32000E / -SEC
EX40000E / -SEC
Server Configurations
Chassis
2U
2U
2U
2U
3U
3U
3U
4U
3U
Full Backup
2TB
3TB
5TB
7TB
10TB
13TB
21TB
32TB
40TB
Disks
7
9
8
10
13
16
14
24
16
Disk Size
1TB
1TB
2TB
2TB
2TB
2TB
4TB
3TB
6TB
Memory
8 GiB
8 GiB
8 GiB
8 GiB
16 GiB
16 GiB
32 GiB
32 GiB
64 GiB
CPUs / Cores
1 CPU
4 cores
1 CPU
4 cores
1 CPU
4 hyperthreaded cores
1 CPU
4 hyperthreaded cores
1 CPU
4 hyperthreaded cores
1 CPU
4 hyperthreaded cores
1 CPU
4 cores
1 CPU
4 hyperthreaded cores
1 CPU
6 hyperthreaded cores
NICs
Two 1GbE
Four 1GbE and two optional 10GbE
Four 1GbE and two optional 10GbE
Four 1GbE and two optional 10GbE
Six 1GbE and optionally replace two 1GbE with two 10GbE
Six 1GbE and optionally replace two 1GbE with two 10GbE
Six 1GbE and optionally replace two 1GbE with two 10GbE
Six 1GbE and optionally replace two 1GbE with two 10GbE
Six 1GbE and optionally replace two 1GbE with two 10GbE or two 40GbE
All ExaGrid Servers
All Servers
Intel processors / Enterprise SATA drives / RAID6 with hot spare / Redundant fans / Redundant power supplies / ExaGrid software / 19-inch rack-mount chassis
Application Support

Veeam Backup & Replication
Veritas Backup Exec/NetBackup
Acronis Backup & Recovery
Arcserve Backup, D2D & UDP
Bridgehead
Carbonite Amanda
CommVault Simpana
Dell vRanger
EMC Networker
HP Data Protector
IBM TSM
Idera SQLsafe
LiteSpeed for SQL Server
PHD Virtual Backup
Red Gate SQL Backup
StorageCraft ShadowProtect
Unitrends Enterprise/Virtual
Zerto Offsite Backup
POSIX-compliant TAR files
Oracle (RMAN)
SQL Dump

Site Configurations

Scalable from 2TB to 1PB full backup (7TB to 2.4PB raw) with 25 servers in a GRID
Mix and match different size/age server models
Hub-and-spoke architecture
ExaGrid sites (one hub and up to 15 spokes)
Standard IP WAN connection between sites
WAN encryption for secure data transfer
Bandwidth throttling for WAN efficiency

Power
Frequency: 50-60 Hz / Voltage: 100-240 VAC, Two NEMA 5-15R 3-prong receptacles/appliance
Country kits available for international orders
EX2000 and EX3000: 220W (1.83A @ 120VAC)
EX5000 thru EX13000E: 270W (2.25A @ 120VAC)
EX21000E: 263W (2.2A @ 120VAC)
EX32000E: 375W (3.13A @ 120VAC)
EX40000E: 336W (2.8A @ 120VAC)
Temperature
10o to 35o C (50o to 95o F)
Humidity
20% to 80% non-condensing
Regulatory Approvals

UL/CSA 60950-1 2d Ed.
IEC 60950 – 1:2005s
EN 6095 – 1:2006
FCC Class A
CB Certificate
ICES-003 Issue 4
EN55024:1998 +A1:2001 + A2:2003
EN55022:2006 + A1:2007
AS/NZS CISPR 22:2006
RoHS Compliant
WEEE Declaration EU Directive

Cooling (Operating)
EX2000 and EX3000: 751 BTU/hr
EX5000 thru EX13000E (including -SEC): 922 BTU/hr
EX21000E (including -SEC): 900 BTU/hr
EX32000E (including -SEC): 1280 BTU/hr
EX40000E (including -SEC): 1147 BTU/hr